Carthel Receives Prestigious Award
Texas A&M University-Commerce head football coach Colby Carthel was honored by the Panhandle Sports Hall of Fame as the Football Coach of the Year. He was presented the award at the Hall of Fame's 60th annual banquet on Sunday, February 11, 2018. Each year on the Sunday following the Super Bowl, folks from the Texas Panhandle gather to celebrate the area's best and brightest athletes and coaches from the previous year.
Colby Carthel, a native of Friona, Texas, is the first Panhandle Sports Hall of Fame Coach of the Year honoree to represent a school outside of the Panhandle at the time of his honor. This is the first "coach of the year" honor won by the 1995 Friona High School graduate in his time at A&M-Commerce.
Colby recently completed his fifth season as the head football coach at A&M-Commerce, leading the Lions to the 2017 NCAA Division II Football National Championship. A&M-Commerce entered the playoffs as a No. 4 seed in the NCAA Division II super Four Region. They put together an astounding five-game playoff win streak which included beating the #1 ranked team and culminated in a victory over West Florida 37-27. It was A&M-Commerce's first-ever NCAA national championship.
The Lions also won the Triple Crown of Division II football with the National Championship, the Harlon Hill Trophy for the top player in Division II football, and the Elite 90 Award for the top grade point average at the NCAA Championship.
In Carthel's five seasons, the Lions have compiled a 49-15 record and have qualified for the postseason in each of those five seasons. A&M-Commerce won three consecutive Lone Star Conference Championships in 2014, 2015, and 2016. The Lions have also had 43 All-American honors, 126 all-Lone Star Conference honors, and eight Lone Star Conference Player of the Year honors in Carthel's five seasons. Colby attributes a lot of the success to the hard work of his coaching staff.
Being honored at the Panhandle Sports Hall of Fame banquet has become a family affair for the Carthel family. Colby's wife, Sarah, and father, Don, were both inducted into the Hall of Fame in 2014. Don Carthel also won the Football Coach of the Year award in 2005, 2007, and 2012, while head coach at West Texas A&M. How 'bout them Chieftains!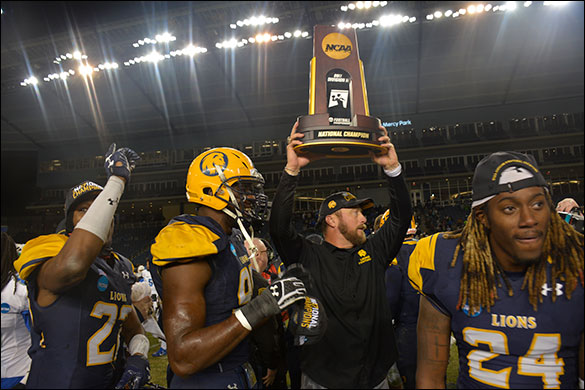 Colby Carthel, head coach of the Texas A&M-Commerce Lions, is shown hoisting the NCAA Division II Football National Championship trophy as his players celebrate around him. The Lions defeated West Florida on December 16, 2017 in Kansas City to win the University's first-ever NCAA national championship. Colby is a graduate of Friona High School. (Courtesy Photo)