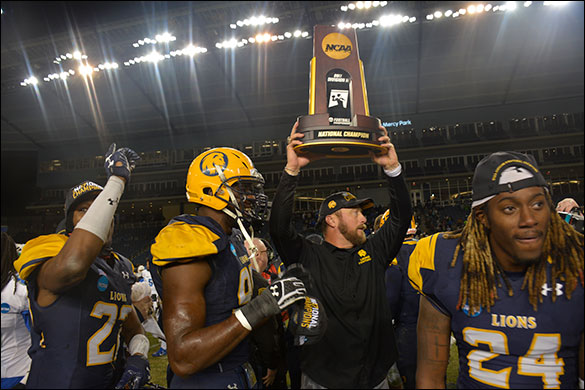 Colby Carthel, head coach of the Texas A&M-Commerce Lions, is shown hoisting the NCAA Division II Football National Championship trophy as his players celebrate around him. The Lions defeated West Florida on December 16, 2017 in Kansas City to win the University's first-ever NCAA national championship. Colby is a graduate of Friona High School. (Courtesy Photo)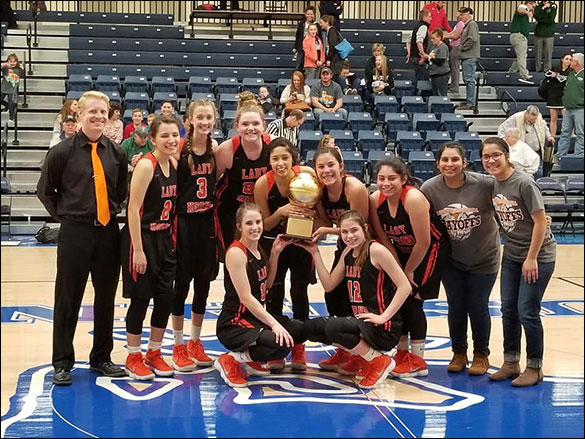 Lazbuddie Lady Horns are Bi-District Champs, winning against Harley 57-59. They will play for the Area Championship game on Friday the 16th @ 7:00 pm vs. Mclean.

I made my first appointment with Gems Salon and got my haircut last week by Esmeralda. I must say, I had a great experience. I love my hair (which doesn't happen often), the atmosphere was nice with friendly conversation, the price was very reasonable, and I was supporting local business by going there! I know that these women will continue to grow and improve, and I look forward to my future appointments with them. (more...)
Carthel Receives Prestigious Award

Texas A&M University-Commerce head football coach Colby Carthel was honored by the Panhandle Sports Hall of Fame as the Football Coach of the Year. He was presented the award at the Hall of Fame's 60th annual banquet on Sunday, February 11, 2018. Each year on the Sunday following the Super Bowl, folks from the Texas Panhandle gather to celebrate the area's best and brightest athletes and coaches from the previous year.
Colby Carthel, a native of Friona, Texas, is the first Panhandle Sports Hall of Fame Coach of the Year honoree to represent a school outside of the Panhandle at the time of his honor. This is the first "coach of the year" honor won by the 1995 Friona High School graduate in his time at A&M-Commerce. (more...)

Parmer County Funeral Home Back in Local Ownership

As of January 13, 2018, Blackwell-Mullins Funeral Home in Friona is under the new ownership of John C. "Dusty" and Melodee Hansard of Friona. The Hansards purchased the funeral home from Mike and Eva Mullins of Dimmitt.
Dusty has been serving families at the funeral home since April of 2003, managing the funeral home and serving as funeral director in charge for the past several years. Melodee was born and raised in Friona and is a Jr High teacher with the Friona I.S.D. She also is in her final semester at the Amarillo College School of Mortuary Science with graduation in May, and is currently a Provisional Funeral Director. They have two sons-Eric (who passed away in November of 2014) Brady, his wife Amber and son Cameron, and 1 daughter-Ellie. They are members of Victory Family Worship Center in Friona. (more...)