4x400m team heads to Austin
The 4x400m Relay Team of Jodie Denton, Anay Chihuahua, Emma Rector, and Bailey Pope will compete in the AAA State Track & Field Championships at 10:25 p.m. this Friday night at Mike A. Meyers Stadium in Austin. Ahahi Gonzalez and Rebecca Schlenker are also on the team as alternates.
The Squaws qualified for the state meet by finishing second with a time of 4:03.53 at the regional meet in Abilene. Friona, Wall, and Presidio will represent Region 1 and will be joined by two teams each from Region 2, 3, and 4 for a total of nine teams. The Squaws have the 5th best time of the nine teams in the race and will be running in Lane 1.
This is the first trip to the state meet for a Friona Squaws 4x400m relay team since 1975. In the seventies, the race was called the 4x440 yard relay or Mile Relay for short. That team, which consisted of Jaton Widner, Paige Osborn, Terri Patterson, and Lucinda Aguirre, ran a 4:00.2 and still hold the Friona school record.
Congratulations to Coach Carrie Arias and the entire Friona Squaws track team for a great year and good luck in Austin!!!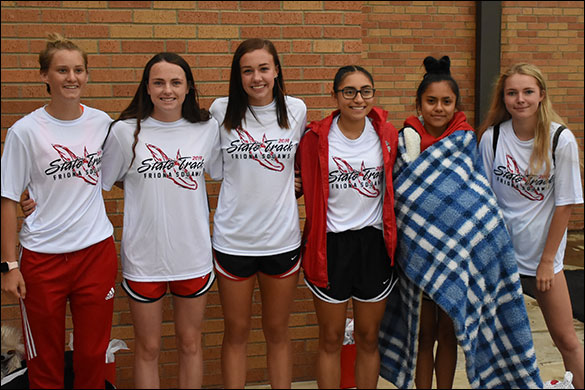 Good Luck to the Squaws 4x400m Relay Team at State!