Chiefs smacked by
Dalhart 53-0
The weather wasn't the only thing cold on a clear, breezy night in Dalhart. The Chieftains never managed to overcome the swarming Dalhart defense or stop the grinding offense. The Golden Wolves led 32-0 at the half and added 21 in the second half to beat the Chiefs in a 53-0 shutout.
Dalhart totaled 403 yards of offense, 230 rushing and 173 passing. The Chiefs managed only 125 offensive yards, 61 rushing and 64 passing.
Quarterback Mason Loflin completed 5 of 18 passes, 4 to Brad Stowers for 44 yards and one to Sawyer Osborn for 5 yards. Diego Licerio left the game in the second half with an ankle injury but was the Chiefs leading rusher with 31 yards on 3 carries. Osborn carried 10 times but gained only 13 yards.
On defense Richard Rodriguez was credited with 5 solo tackles and 3 assists. Edgar Guerrero led with 4 solo tackles and 7 assists.
The Chiefs season record is 1-4 as District 2-2A Div I play opens Friday October 12 when the Muleshoe Mules visit Chieftain Field. It is Pink Out night in support of the Cancer Coalition and Breast Cancer Awareness Month. All fans are urged to wear pink. The Noon Lions will be selling hamburgers and fries so come out and support the Chiefs. Go Big Red!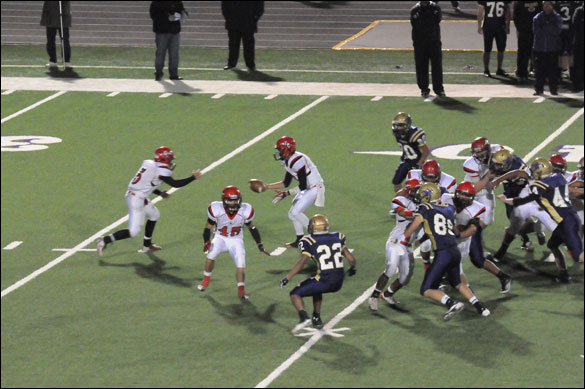 ron carr photo
Mason Loflin hands off to Sawyer Osborn during the Chiefs vs Dalhart game Friday night. The Chiefs host Muleshoe this week. Game time is 7:30 p.m.