Class of 1962 holds 50-year reunion
(Info submitted by Adabeth Akens Smith and Karen O'Brian Carter-Durham)
The Friona High School Class of 1962 reunited September 14-15, 2012 in Friona with 35 class members attending. Festivities began with the homecoming game on Friday and continued Saturday beginning with a ride down Main St. in the parade. Then we toured the landmark home of class member Donna Baker.
At 2 p.m. the class gathered at Friona State Bank for an afternoon of renewing friendships and remembering old times. Later in the afternoon the classmates traveled to Summerfield, Tx to the Country Rose, an event center of classmate Charles and Roseann Ray. Charles gave a tour of their "Oasis in West Texas."
The weather, the sunset, and the peace of the countryside made a beautiful backdrop for a photo session. Amy Rushing, of Amy Rushing Photography, took over 160 photos of classmates and their guests. Jo Eddie Scott Riley, a former teacher, paid a surprise visit.
In the evening the class gathered at the Country Rose and was welcomed by senior class vice-president James Perkins. Classmate Ellis Parson, pastor of the Summerfield Baptist Church, gave the invocation. A feast was served by Canna and Jeff Ray and daughters of Country Rose Catering, featuring a three-tiered "FHS Class of 62" cake and ice cream.
After the meal, Tommy Roberts, senior class treasurer, led a time of sharing school memories. Floyd Reeve and Bobby Daniels led the school song.
Tommy Roberts summed up the class feelings in a later email: "It seems to me that fifty is the perfect class reunion, devoid of competition and pretension and full of gratitude that friendships can last through so many years. That span of time contains mistakes and set-backs for all of us, but mine all faded to nothing as I sat among my oldest friends and felt like I did in 1962. What a privilege it was to be with all of you. You were all bricks in my foundation."
The evening concluded with the benediction by Charles Ray and a heart warming rendition of "Amazing Grace-My Chains Are Gone" by his granddaughter 8-year-old Brooklyn Ray.
The Class of 1962 decided "50" was so much fun that they want to gather again in three years at the all-school reunion.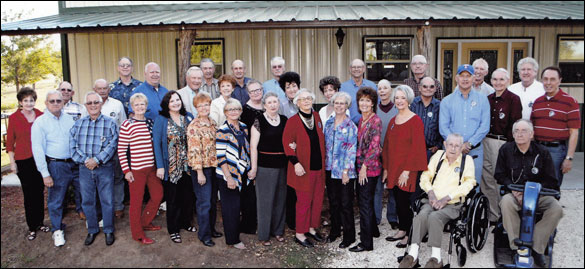 courtesy photo
The Friona High School Class of 1962 50-year reunion. Front row, l-r, Tommy Sheek, Tommie Scales, Jere Buske Hand, Karen Turner Blake, Mikie Welch Bishop, Mary Ann Boggess, Donna Baker, Donna Fields Randolph, Brenda Collier Jesko, Janet Smith Busby, Carol Coffey Taylor, Lee Gibson, Roger Gee; middle row, l-r, Adabeth Akens Smith, Jim Roy Wells, Eldon Reeb, Craig Tannahill, Floyd Reeve, Betty Drake Reeve, Jimette McLean, Karen O'Brian Carter-Durham, Janice Wright Loafman, Jo Eddie Scott Riley (former teacher), Ellis Parson, Gary Snead, James Perkins, Larry Anthony; back row, l-r, Tommy Roberts, Bobby Daniel, Charles Ray, Danny Smith, Phil Phipps, Larry Drake, Craig Coon, and Donald Ray Busby. Attending but not pictured was J.D. Woolbright.