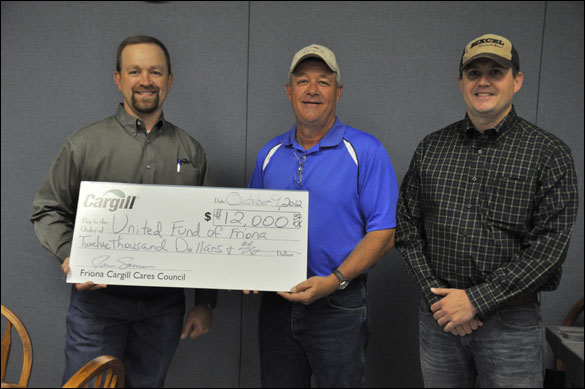 ron carr photo
The Cargill Friona plant kicked off the annual Friona United Way fund drive with a $12,000 donation. The company employees participate in a United Way payroll deduction program and Cargill contributes with a direct donation. From left are, Cargill general manager Jon Surman, Cargill training manager and Friona United Way board president Rick White, and Cargill plant controller Casey Conrad. Individual and business donations to the 2012 United Way fund raising effort can be made at Friona State Bank.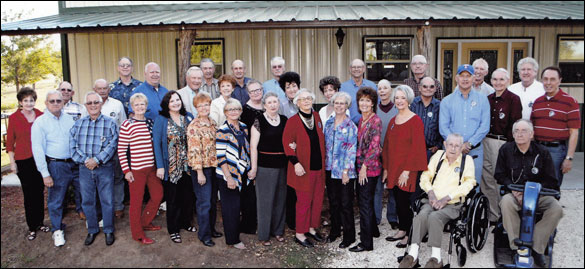 courtesy photo
The Friona High School Class of 1962 50-year reunion. Front row, l-r, Tommy Sheek, Tommie Scales, Jere Buske Hand, Karen Turner Blake, Mikie Welch Bishop, Mary Ann Boggess, Donna Baker, Donna Fields Randolph, Brenda Collier Jesko, Janet Smith Busby, Carol Coffey Taylor, Lee Gibson, Roger Gee; middle row, l-r, Adabeth Akens Smith, Jim Roy Wells, Eldon Reeb, Craig Tannahill, Floyd Reeve, Betty Drake Reeve, Jimette McLean, Karen O'Brian Carter-Durham, Janice Wright Loafman, Jo Eddie Scott Riley (former teacher), Ellis Parson, Gary Snead, James Perkins, Larry Anthony; back row, l-r, Tommy Roberts, Bobby Daniel, Charles Ray, Danny Smith, Phil Phipps, Larry Drake, Craig Coon, and Donald Ray Busby. Attending but not pictured was J.D. Woolbright.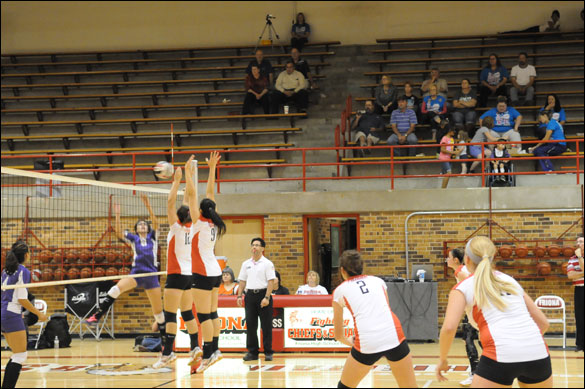 holly campbell photo
The Friona Squaws are 5-0 in District play and host the Littlefield Lady Cats Saturday, October 13. Game time is JV at 11:30 a.m. and Varsity 12:30 p.m.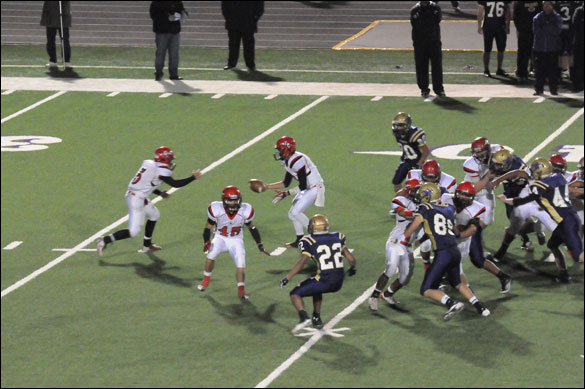 ron carr photo
Mason Loflin hands off to Sawyer Osborn during the Chiefs vs Dalhart game Friday night. The Chiefs host Muleshoe this week. Game time is 7:30 p.m.
Town Talk II
by Ron Carr
It got cold in Dalhart last Friday night. We took the mediamobile from Amarillo to Dumas to Dalhart, not the most scenic drive in Texas. Dalhart has a new stadium with field turf and just great facilities for a high school football game. Since I helped Clint Mears video the game from the visitor's press box the photos I took of the game are from that perspective not on the sideline.
There will be plenty of photo ops this Friday night as we have Pink Out night at the Muleshoe game here. Rain chances are predicted but hope we can stay dry at Chieftain Field. Come out and support the players, cheerleaders, and the band. Go Big Red! (more...)
New police policy in effect for unlicensed, uninsured drivers
At the city council meeting Monday Friona Police Chief Frank Mooney informed council members of a new policy in town regarding unlicensed and uninsured drivers. Following is an explanation of the policy as furnished by Chief Mooney to the Friona Star:
It is the position of the Friona Police Department that unlicensed, uninsured drivers, and drivers whose licenses are invalid represent a hazard to themselves and the community at large.
Unlicensed drivers are not only violating state law while operating a motor vehicle ona public roadway, but are less likely to be able to operate a motor vehicle safely, due to failure to know or understand the traffic laws of Texas. (more...)
Class of 1962 holds 50-year reunion
(Info submitted by Adabeth Akens Smith and Karen O'Brian Carter-Durham)
The Friona High School Class of 1962 reunited September 14-15, 2012 in Friona with 35 class members attending. Festivities began with the homecoming game on Friday and continued Saturday beginning with a ride down Main St. in the parade. Then we toured the landmark home of class member Donna Baker.
At 2 p.m. the class gathered at Friona State Bank for an afternoon of renewing friendships and remembering old times. Later in the afternoon the classmates traveled to Summerfield, Tx to the Country Rose, an event center of classmate Charles and Roseann Ray. Charles gave a tour of their "Oasis in West Texas."
The weather, the sunset, and the peace of the countryside made a beautiful backdrop for a photo session. Amy Rushing, of Amy Rushing Photography, took over 160 photos of classmates and their guests. Jo Eddie Scott Riley, a former teacher, paid a surprise visit. (more...)
Council approves fund transfer to assist Prairie Acres
The Friona city council met in regular session Monday October 8, 2012. All members were present except Councilman Charlie Pope. Mayor J.B. Douglas gave the invocation. There was no one from the public present.
The Friona Star was re-approved as the official newspaper of Friona. Designation of an official newspaper is required annually by Texas municipalities for posting public notices, legal notices, requests for bids, etc.
Friona Police Chief Frank Mooney gave his monthly report to the council. He introduced the new police department dispatcher, Melissa Gallego. She is a 2009 FHS graduate with an Associate Degree in Forensic Science from Amarillo College and plans to pursue a degree in Criminal Justice at West Texas A&M. (more...)
Squaws remain 5-0 undefeated in district
From Coach Bryan Masse
At Tulia last Saturday the C team and JV team both swept the Lady Hornets 2-0. With good passes and hits the JV girls stayed undefeated in district. They beat Tulia 25-15, 25-14.
The varsity girls lost their first district game but won the match 3-1 to stay undefeated in district play. In game one the ladies got off to a slow start and Tulia had the crowd and momentum. The Squaws weathered the storm and won 25-19. In the second game the ladies found themselves behind again and struggled to have enough energy. Tulia finished the game with a run and won 21-25. (more...)
Chiefs smacked by Dalhart 53-0
The weather wasn't the only thing cold on a clear, breezy night in Dalhart. The Chieftains never managed to overcome the swarming Dalhart defense or stop the grinding offense. The Golden Wolves led 32-0 at the half and added 21 in the second half to beat the Chiefs in a 53-0 shutout.
Dalhart totaled 403 yards of offense, 230 rushing and 173 passing. The Chiefs managed only 125 offensive yards, 61 rushing and 64 passing.
Quarterback Mason Loflin completed 5 of 18 passes, 4 to Brad Stowers for 44 yards and one to Sawyer Osborn for 5 yards. Diego Licerio left the game in the second half with an ankle injury but was the Chiefs leading rusher with 31 yards on 3 carries. Osborn carried 10 times but gained only 13 yards. (more...)