Chiefs battle hard but lose to Stratford
It was 140 degrees on the artificial turf at Dick Bivins Stadium for the 4:30 p.m. kickoff. As in most first games of the season, the Chieftains and Stratford Elks battled the heat, first game jitters, turnovers, and rookie players. After a scoreless first quarter, Friona scored on a 24-yard touchdown pass from Mason Loflin to Brad Stowers to lead 6-0. (The Chiefs missed on three extra point attempts and have yet to find that dependable kicker.)
The Elks scored twice and took a 14-6 lead into halftime. Early in the 3rd quarter the Chiefs uncorked an 84-yard touchdown pass from Loflin to Jose Zamudio. On the ensuing Elks possession they fumbled, Friona recovered and two plays later Ediladio Garcia took a handoff, spun away at the line and raced 54 yards for a touchdown. The Chiefs led 18-14.
But on the next possession the Chiefs had a 3rd and 18 when the Elks defense chased Loflin into the end zone and he was flagged for intentional grounding, giving Stratford a two-point safety. The Chiefs still led 18-16. Stratford returned the Friona free kick to the 35 and four plays later the Elks led 22-18. The Elks scored again in the 4th quarter to win the game 29-18.
The Chieftains recovered three Elks fumbles but Loflin was sacked six times and threw three interceptions. He completed 7 of 26 attempts for 142 yards and two touchdowns. Passes were completed to Dallin Woods, 1 for 4 yards; Justin Rocha 1 for 3 yards; Brad Stowers 2 for 27 yards and a TD; and Jose Zamudio 3 for 108 yards and a touchdown.
The Chiefs managed only 84 rushing yards, split with Omar Ramos 2 carries for 5 yards; Stowers 6 for 11 yards; and E. Garcia 5 for 76 yards. Loflin carried 4 times for minus-8 yards. After the game Coach Prokop told the Amarillo Globe News, "The biggest thing was our failure to run the ball. We're not good enough to make mistakes like muffing punt formations or having a back go the wrong way. The kids played hard and I'm proud of them for that."
The Chieftains have an open date this week, travel to River Road September 13 and host Idalou for homecoming September 20.
clint mears photo
Great tackle by Hector Garcia (71) as teammates Jose Rocha (24) and Omar Ramos (12) come up to help. The Chiefs lost to Stratford 29-18. More game photos in our photo section.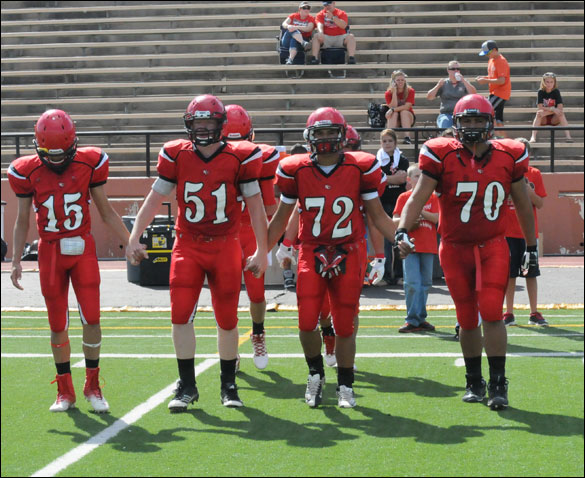 ron carr photo
Captains for the season opener with Stratford were, l-r, Brad Stowers (15), Jacob Osborn (51), Abel Palacios (72), and Abayomi Salinas (70).