clint mears photo
Great tackle by Hector Garcia (71) as teammates Jose Rocha (24) and Omar Ramos (12) come up to help. The Chiefs lost to Stratford 29-18. More game photos in our photo section.
Chiefs battle hard but lose to Stratford
It was 140 degrees on the artificial turf at Dick Bivins Stadium for the 4:30 p.m. kickoff. As in most first games of the season, the Chieftains and Stratford Elks battled the heat, first game jitters, turnovers, and rookie players. After a scoreless first quarter, Friona scored on a 24-yard touchdown pass from Mason Loflin to Brad Stowers to lead 6-0. (The Chiefs missed on three extra point attempts and have yet to find that dependable kicker.) (more...)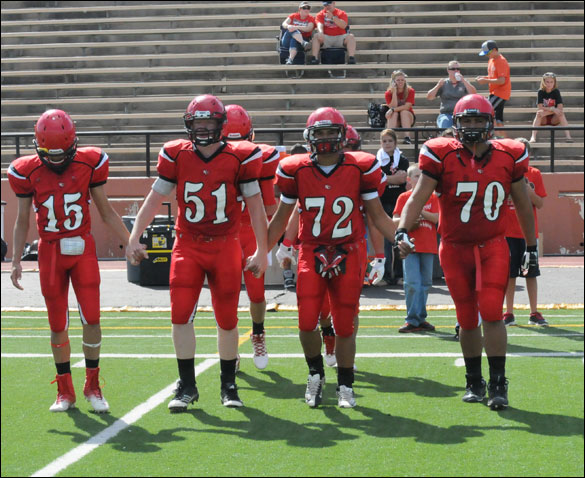 ron carr photo
Captains for the season opener with Stratford were, l-r, Brad Stowers (15), Jacob Osborn (51), Abel Palacios (72), and Abayomi Salinas (70).
From Coach Bryan Masse
The Friona Squaws volleyball teams will finally play a home game on Saturday September 14 vs. Plainview Christian. Game time is 1:00 p.m.
The girls played in the River Road tournament last weekend. On Friday in pool play the ladies started off winning the first game against Borger but lost the next two games. After a loss to Shallowater the ladies rebounded to play better but fell to Denver City 1-2. (more...)
The Parmer County Cancer Coalition's Pink Out night is Friday October 4 when the Chieftains host the Dalhart Golden Wolves. It is also the night of the Noon Lions Club burgers and fries tailgate party. Wear pink and come out and enjoy the burgers and the game and support our local cancer coalition program. (more...)
Town Talk II
We have had many garage sales lately around town. Now it is time for you garage sale folks to take down all of the garage sale signs you plastered on poles and cardboard boxes. The sale is over, go take down the signs. It is the right thing to do don't you think? (more...)

Cargill supports apartment project

Friona, like most small towns, has always had a rental shortage. Not all residents who transfer into Friona want to buy a home and rental units are often scarce or unaffordable. That situation is about to change thanks to the efforts of the Friona Economic Development Corporation (FEDC) and Cargill Meat Solutions.

Cargill has been in the forefront of the housing dilemma. With near 2,000 employees at the Friona plant, most of the employees commute to cities such as Clovis, Hereford, Dimmitt, and Amarillo. Cargill feels more of their employees would live in Friona if housing was available. (more...)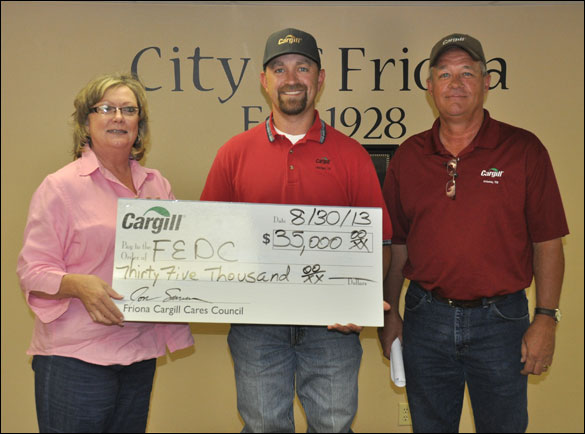 ron carr photo

Cargill reimbursed the Friona Economic Development Corporation (FEDC) $35,000 for the cost of property bordered by 6th and 7th Streets and Ashland and Woodland. Plans have been developed by a Clovis builder to build up to 32 apartment units on the property. Groundbreaking is expected to take place within the next couple of weeks. From left are FEDC executive director Chris Alexander, Cargill general manager Jon Surman, and Friona Mayor and Cargill training manager Rick White.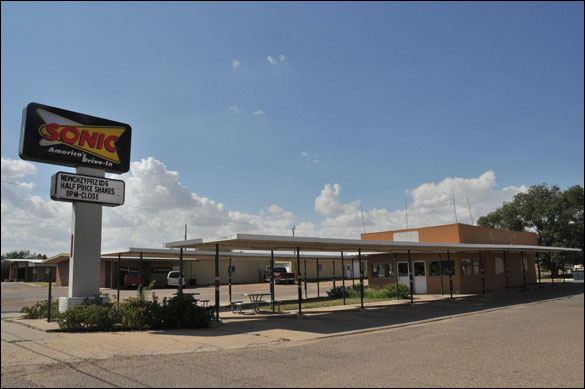 ron carr photo

RIP Friona Sonic. Friona's Sonic Drive-in closed its doors as of September 1, 2013. The owners were not able to afford new construction required by the Sonic corporate office.