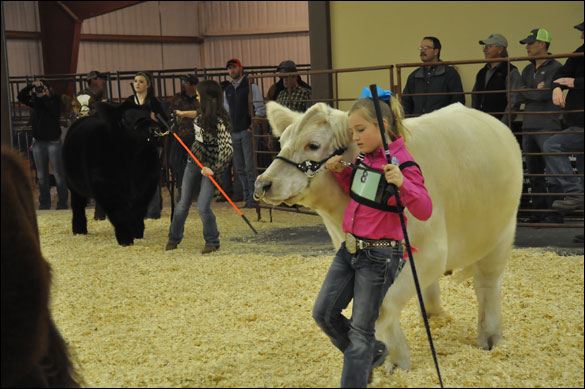 dana jameson photo
4-H member Kobi Kirby, in pink, has a lot on her plate as she enters the showring with her Cross Breed steer at the 2016 Parmer County Livestock Show held last week at the Friona Community Center. She is followed by Lazbuddie FFA member Ashlyn Timms. Kirby's steer took home a fourth place ribbon during the Steer Show on Tuesday, January 19.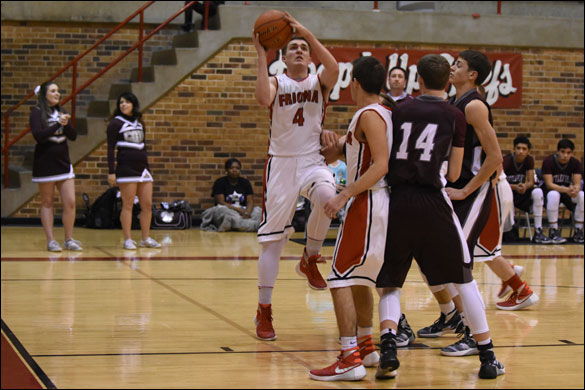 ron carr photo
Kaegan Kerby (4) heads to the basket over the Littlefield defenders. The Chiefs lost to the Wildcats 55-46 for an 0-3 district record. They traveled to Tulia Tuesday and host Shallowater here Friday January 29. Squaws at 6:30 and Chiefs at 8:00 p.m.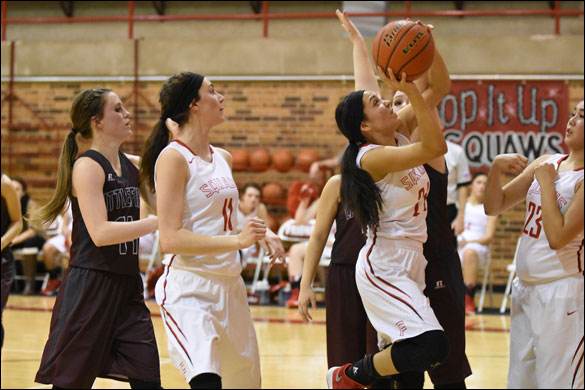 ron carr photo
Senior Squaw Evelyn Lozoya (24) fights through traffic to score against Littlefield. Teammates Kim DeWit (11) and Mariah Trevino (23) look on. The Squaws lost to the Lady Cats 60-44. They travel to Tulia this week and host Shallowater here Friday January 29. Game time is 6:30 p.m. followed by the Chiefs at 8:00 p.m. All district games are broadcast on KNNK 100.5 FM or WT Services channel 6 or online at knnkradio.com.
The county tax assessor's office in Farwell will close at 11:30 a.m. Tuesday February 2 for training.
*****
A couple of news reports said Super Bowl 50 tickets were averaging over $5,000. That is the resale price. Face value of tickets is $850 to $1800 for general admission and $3,000 for club seats. Lots of new big screen TVs being sold also. Think I will stay home and watch it and take a nap. (more...)
Friona Chamber Banquet March 8
The Friona Chamber of Commerce and Agriculture will celebrate their 60th Annual Chamber Awards Banquet on Tuesday, March 8, 2016 at the Friona Community Center. Jill Wyatt Marshall from Tulia will be the guest speaker for the evening.
The Silent and Live Auction will begin at 6 p.m. and a delicious meal of prime rib and all the fixin's will be served at 6:30 p.m. (more...)
County farmers, blizzard volunteers asked to submit names, hours spent
Parmer County Emergency Coordinator John Gurley is requesting any area farmers and other volunteers that worked during the recent blizzard to submit names, equipment, and hours worked to assist the county in receiving funds from FEMA. (more...)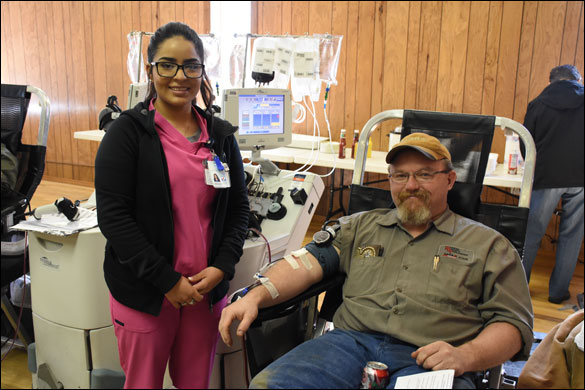 ron carr photo
Coffee Memorial Blood Center technician Ana Briones tends to blood donor Jeremy Reed at Thursday's Friona blood drive. Thanks to Friona's loyal donors the blood drive collected 62 donations. The next blood drive is scheduled for March 24 when donors will be entered in a drawing for a big prize. Details TBA. Thank you Friona.