Obituary
Lela Mae George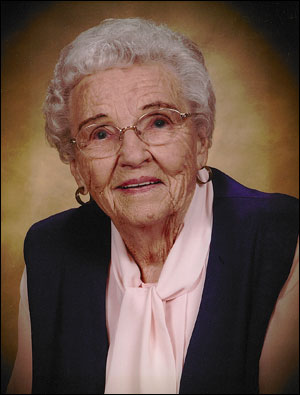 Lela Mae George, 99 of Friona, died Monday, January 25, 2016 in Friona. Viewing will be Thursday, January 28, 2016 from 9 a.m. to 9 p.m. with family visitation from 5 p.m. to 7 p.m. at Blackwell-Mullins Funeral Home in Friona. Graveside services have been scheduled for 2:00 p.m. Friday, January 29, 2016 at Memorial Gardens Cemetery in Dalhart with Rev. Steve Patterson, pastor of the Central United Methodist Church in Dalhart, officiating. Burial will follow in the Memorial Gardens Cemetery by Blackwell-Mullins Funeral Home of Friona.
Lela Mae was born May 1, 1916 in Crowell Texas to Henry & Margarette Wesson White. She married Merlin L. George on December 11, 1933 in Clayton, New Mexico. She spent most of her adult life in the Stead, Amistad and Clayton area.
Lela Mae received her licensed vocational nursing license from Amarillo College in 1965 and was a practicing nurse at the Clayton New Mexico Hospital until they moved to Crane, Missouri in 1976. There, along with their ranching endeavors, she continued serving as a nurse for local doctors and then served as school nurse until she retired from nursing in 1986.
Lela Mae was preceded in death by her husband of 50 years; a sister, Ruby Robertson; and a great-grandson, Harrison Hadley.
She is survived by two sons, Douglas George of Clayton, New Mexico, and David George and wife Carolyn of Canyon; three daughters, Ileta Faye Burkett and husband Charles of Ft. Morgan, Colorado, Margaret Ann Burch and husband Harvey of Pagosa Springs, Colorado and Kathleen Fiel and husband Sandy of Roswell, N.M.; 18 grandchildren; 37 great-grandchildren; and 14 great-great-grandchildren.
In lieu of flowers, memorials may be sent to Prairie Acres Nursing Home, 201 East 15th Street, Friona, Texas 79035
You may sign the online register book at www.blackwellmullins.com.