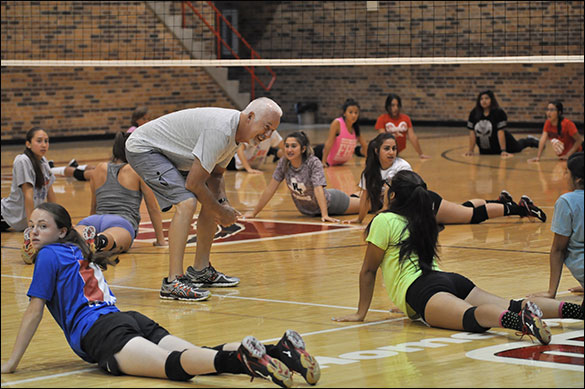 dana jameson photo
FHS Volleyball coach Darrel Ray has some fun during two-a-days on Wednesday morning. The varsity Squaws will meet the Alumni Friday evening, August 4, at the FHS gym at 6 p.m.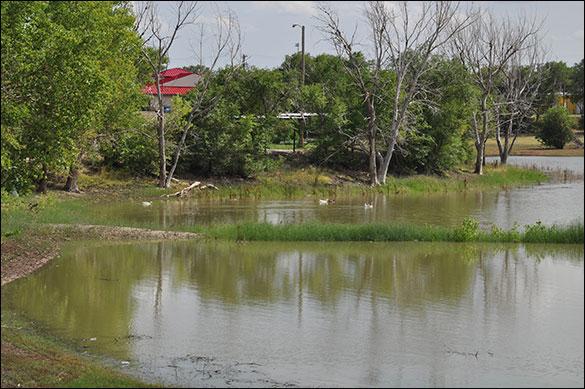 dana jameson photo
The area received a welcomed rain this week. John Gurley, Friona's offical weatherman, reported that the area received 3.48" in July and as of Tuesday morning had received an additional 3.76". Rain is in the forecast throughout the next week due to the monsoonal flow. Reeve Lake has been the beneficiary of the run-off and the ducks are enjoying the additional swimming space.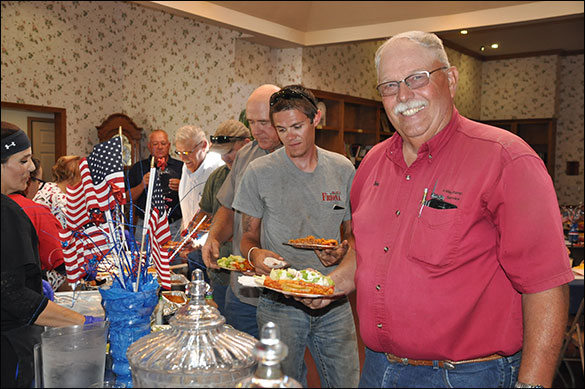 dana jameson photo
Local first responders were honored with a luncheon hosted by Prairie Acres and Friona Heritage Estates on Wednesday, July 26. The first responders were served up enchiladas with all the fixings. John Taylor led the way down the buffet line.

The Landon Wiseman Memorial Golf Tournament will be held Saturday, August 26 at the Farwell Country Club. This is a four-man scramble and only 18 teams will be entered. The cost per team is $400. For more information or to sign up, call the Farwell Country Club at (806) 481-9210. (more...)
A new school year begins August 17
The Parmer County Historical Commission will be celebrating the 100th birthday of the Parmer County Courthouse in Farwell. The Courthouse was built and occupied in 1917.
The historical commission plans to recognize this milestone with special events at each of the county celebrations. (more...)
Chieftains, Squaws ready for new year
School bells will be ringing on Thursday, August 17 but school sports kicked into high gear on Tuesday, August 1 with FHS volleyball and cross country starting two-a days. FHS football two-a-days begin Monday, August 7. These athletes are getting ready for a season filled with competition and challenges. Many of these athletes have been preparing all summer for this fall. (more...)

FJHS Orientation Aug. 14
Friona Junior High School will host an Open House and 6th, 7th & 8th Orientation on Monday, August 14 at 5 p.m. in the Junior High Auditorium. Schedules will be handed out at this meeting. All incoming FJH students and parents should attend. (more...)
2017 Friona Youth Dayz begin Friday
Friona Youth Dayz will kick off 6 p.m., Friday, August 4, at the city swimming pool. All junior high school and high school students are invited to a swimming and pizza party. At 8 p.m., Shelby Hutson Mata will speak to the students. (more...)