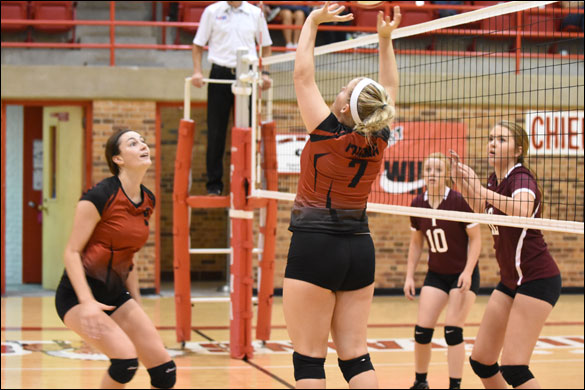 ron carr photo
Senior setter Kendall Barnett (7) sets up another kill for senior hitter Kim DeWit and the Squaws swept Tulia 3-0 in Saturday's match. They swept Olton Tuesday at Olton and the senior duo will be leading the Squaws as they open district play Tuesday vs. Dimmitt here.
dana jameson photo
Omar Estrada (3) breaks up a Dalhart pass during first half action Friday night. Other Chieftains are Austin Mercado (42) and Johnny Ojeda (22). The Chiefs are open this week and begin district October 7 vs. River Road here. They beat Dalhart 24-14 in OT to improve to 3-2 this season.
Official weather guy John Gurley has been silent the last few days. Not much rain to report, plus he was basking in Galveston last week. Just as well since it did not rain anyway. Temperatures were low enough Monday morning that I turned on my heat for the first time.
*****
SnakPak4Kids says they are no longer accepting peanut butter and Pop Tarts. They are concerned about liability in the event of a product recall. They will be substituting grain bars and continue to welcome volunteers on Thursdays at the Methodist Church for the weekly packing of the backpacks. They always welcome money donations. (more...)
Sheriff's Night Out is October 4
The Parmer County Sheriff's Office is hosting a "National Night Out" Tuesday, October 4, 2016 from 6-8 p.m. at the Sheriff's Office at 300 4th Street in Farwell. Everyone in Parmer County is invited to come out and enjoy hamburgers cooked by Cargill and the Friona Noon Lions Club "World Famous" French fries as well as games, music, prize giveaways and much more. (more...)
Chief comeback beats Dalhart in OT
Things looked kind of bleak for the Chieftains during the first half of last Friday's game. Dalhart scored on the second play of the game on a long run and were leading 14-0 at the half. (more...)
From Coach Bryan Masse
On Saturday the Squaws volleyball teams hosted the Tulia Lady Hornets. The Squaws swept the Hornets in straight sets for all three teams. (more...)