Obituary
Virgie Mae Wikle-Hukill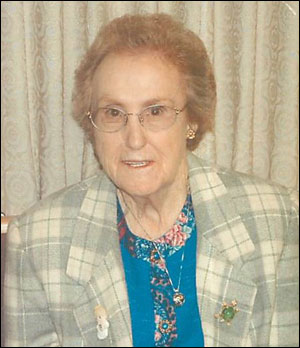 Virgie Mae Wikle-Hukill, 94, of Friona, passed away on September 20, 2016 in Friona, Texas.
Funeral services were held Friday, September 23, 2016 at Melrose Church of Christ with John Snider officiating. Burial followed at Melrose Cemetery.
Virgie was born in Alba, Texas to Arthur and Vada Arnold on November 13, 1921. She married Samuel Vernon Hukill on July 27, 1940 in Alba, Texas. She was a homemaker, a loving wife and a wonderful mother who loved her children and grandchildren very much.
She was preceded in death by her husband, Sam Hukill; her parents; an infant daughter, Nancy; one son, Billy; Charles Wikle; one sister; and four brothers.
Virgie is survived by one son, Virgil Hukill of Albuquerque, New Mexico; four daughters and spouses, Mildred & Ellis Parson of Friona, Texas, Linda & Larry Dopp of Bovina, Texas, Betty & David Proctor of Portales, New Mexico and Patricia Dowd of Azle, Texas; one daughter-in-law, Amie King of Escondido, California; 24 grandchildren; 45 great grandchildren; 11 great-great; and two sisters, Fern Stanton of Idalou, Texas, Joyce Bricker of Littleton, Colorado; and numerous nieces and nephews.
Pallbearers were Edwin Parson, Darrell Parson, Johnny Dopp, Corey Proctor, Kenneth Hukill and Tyler Hukill.
Honorary Pallbearers were Kevin Proctor, Phillip Parson, Wayne Parson, Nathan Parson, Christopher Dopp, Zachery Goen, Danny Dowd, Randy Dowd, Torrey Hukill, Samuel Hayden Hukill and Hunter Hukill.
In lieu of flowers, memorials may be given to Prairie Acres Nursing Home or the charity of your choice.
The family of Virgie wishes to extend their thanks to Prairie Acres Nursing Home nurses and staff, Samaritan Hospice, John Snider and Melrose Church of Christ.