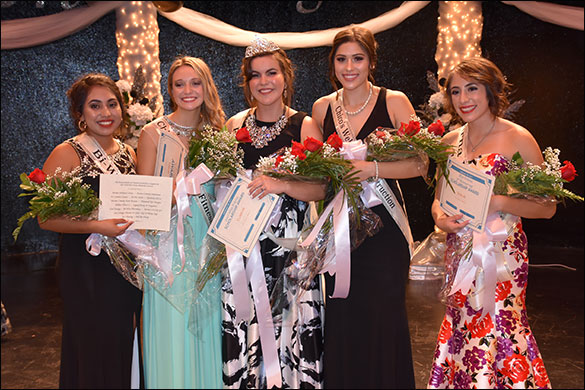 dana jameson photo
2017 Miss Friona Brooklynne Johnston, center, was crowned last Friday evening by 2016 Miss Friona Sydney Frye. Brooklynne's court, l-r, 4th runner-up Kessly Salinas, 2nd runner-up Graci Stallings, 1st runner-up Erica Barrera, and 3rd runner-up Rickie Castillo.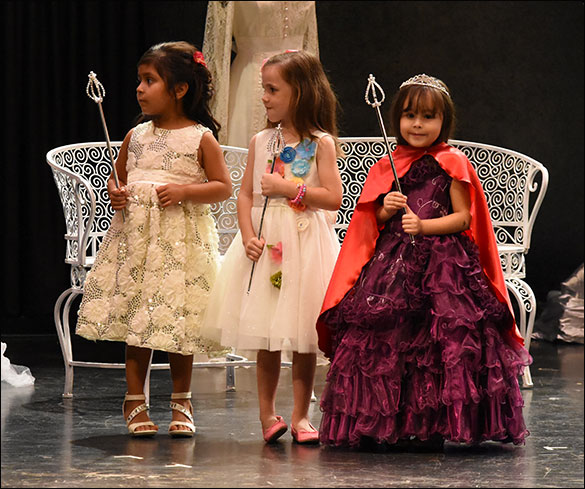 dana jameson photo
2017 Little Miss Friona Abigail Guerra, right, was crowned by 2016 Little Miss Friona Aylen Moreno. Her court was, l-r, 1st runner-up Sophia San Miguel and 2nd runner-up Ella Rector.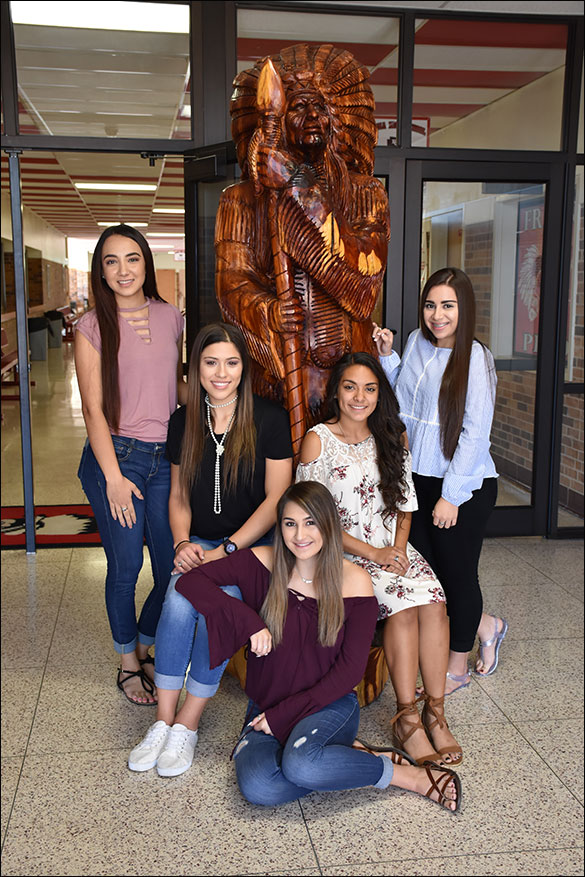 dana jameson photo
The 2017 Homecoming Queen will be named before the Friona/Bovina game this Friday. Queen nominees are, l-r, Erika Grado, Erica Barrera, Megan Stone, Jackie Legarreta, and Nishna Soto.
West 11 Sports will be naming a Player of the Week each week during the 2017 football season. The player of the week against Farwell on September 1 was Marco Maldonado. The player of the week against Booker on September 9 was Marco Monreal. Congratulations to these young men.
*****
The Prairie Acres Activity Department is raising money for their Resident Summer Outing fund by selling chances for a Huffy 26" Nighthawk Mountain Bike. Chances are $1 each or 6 for $5. Stop by Prairie Acres for tickets or they will be at the City Park on Saturday, September 16 during the Maize Days festivities. They will draw the winner at 2 p.m. on Saturday. (more...)
Johnston, Guerra crowned Miss, Little Miss
For One Night Only-Friday, September 8-magic filled the air as sixteen Miss Friona and eleven Little Miss Friona contestants took to the stage at the Friona High School auditorium to show their poise, elegance and talents.
Contestants were interviewed by emcee Ali Allison, of Newschannel 10 in Amarillo, followed by modeling of casual and eveningwear. (more...)
Elementary collects over $1,000 for Harvey relief

Friona Elementary has joined the effort to help with the victims of Hurricane Harvey. For five days they have collected $1,077.22. That money will be used to help buy school supplies for the students in the affected areas.
"We are proud that the students and staff of Friona Elementary opened their hearts and their piggy banks to lend a helping hand," stated Loy McLellan, Friona Elementary Counselor. (more...)

61st Maize Days festivities

As 61st Annual Maize Days festivities wind down there is still more fun to be had.
Friday, September 15, the Friona Chieftains will host their Highway 60 rivals ,the Bovina Mustangs, for Homecoming. The Homecoming Queen will be announced before the 7:30 p.m. kickoff. There are five young women vying for the Queen's position. Those nominees are Erica Barrera, Erika Grado, Jackie Legarreta, Nishna Soto and Megan Stone. (more...)